Unemployment Survivors Guide Part 4: Updating Your Resume
April 24, 2020 at 12:03 pm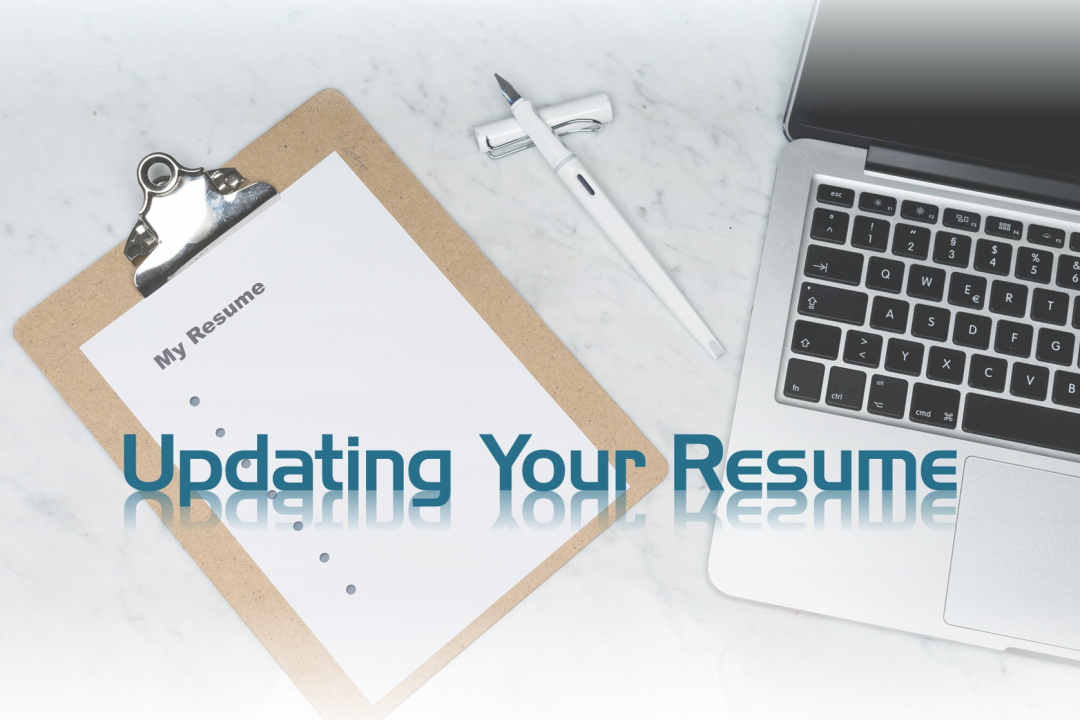 This #UESurvivalGuide is designed to provide tools and resources to optimize your journey so that you can glean expert advice from industry leaders and avoid stumbling in the dark on your own. My expertise within marketing typically falls within branding, design and content. I'll touch on all those within this article on resumes, but we will all rely on other expertise to provide insights into what hiring managers, recruiters and other critical gatekeepers look for to get you in the "Yes" pile and out of the Recycle bin.
---
Yesterday, we discussed building your personal brand and all the elements that are included, which is a very natural flow into today's topic. Your resumes should align with your personal brand. This encompasses the style, flow, tone of voice, area of expertise, skill sets, and more that should be covered on your building and submitting your resumes.
Some observant folks reading this are asking why "resumes" was plural. The reason is that each presented resume should be specifically targeted to a specific role. You will have similar core information and perhaps a consistent style within your resumes, but there should be focused content for each position applied.
Many employers and online job boards are now using scanning software to look for keywords, duties and accomplishments. If your included content does not meet the established criteria, then your resume is likely never to make it to a human for further consideration. Include keywords that are applicable for the role and industry, using exact phrasing from the target position posting when appropriate. If all you include is the position post verbatim, then the resume will not get past the next gatekeeper – the recruiter or hiring manager.
According to an article on Glassdoor the average corporate recruiter or hiring manager spends 6 seconds reading a resume… Wait, what? That's right folks - 6 seconds! You need to have a dang good resume, specific for that particular role compiled, or it is getting tossed in the Recycle bin instead of calling you in for an interview.
This Is Exactly What Hiring Managers & Recruiters Look For When Scanning Resumes
We're going to let you in on a little secret: the average recruiter or hiring manager spends 6 seconds reading a resume...
https://www.glassdoor.com/blog/scanning-resumes/
Some simple items I suggest to consider: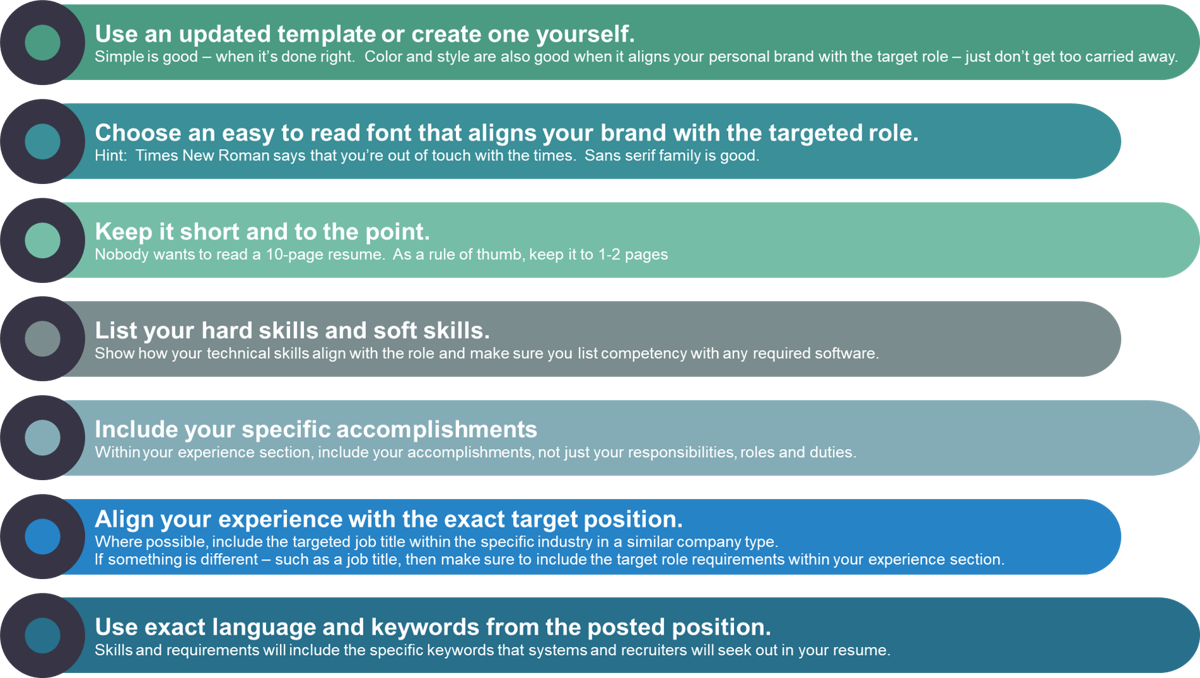 But don't take my word for it. Most online job boards offer resume advice, as well as an entire industry of professionals that can help. Some of my personal favorites are as follows:

Resume Format Guide: Tips and Examples of the Best Formats
Did you know there are three resume format types? Here's how to determine which type you should use, including a resume format sample for each.
https://www.indeed.com/career-advice/resumes-cover-letters/resume-format-guide-with-examples
10 Resume Tips You Haven't Heard Before
Go beyond the basics.
https://www.glassdoor.com/blog/10-resume-tips-you-havent-heard-before/
In addition to these sources of resume advice, there are also many online resources that provide updated templates or examples of resumes in specific roles and industries. Check out some of the ones I have personally consulted and reviewed for inspiration in the past:
Zety best resume templates: https://zety.com/resume-builder
my Perfect resume: https://www.myperfectresume.com/build-resume
Glassdoor: https://www.glassdoor.com/blog/anatomy-perfect-resume
Monster.com: https://www.monster.com/career-advice/article/resumes
ResumeHelp.com: https://www.resumehelp.com
LiveCareer.com: https://www.livecareer.com/resume-builder
WARNING: If you use any templates, make sure to edit the language and included content to fit your brand. This content includes your experience, expertise, accomplishments, tone of voice, and style – where appropriate. Use common sense and think about what the recruiter is going to want to see in order to bring you in for an interview.

TIP: If you have recruiters in your personal network or at least an objective thinker, send them your resume for them to review in alignment with your targeted role. Be open to constructive criticism. This is a great step that can make the difference between "perfect" and "good but not good enough."

If you cannot think of whom to turn to for help with your resume, then Monster.com and similar sources have free resume assessment services. Simply upload your completed resume, and they will scan it and assess it with their smart resume scanning technology, and then provide an email with feedback within a couple of business days.

Perfect Your Resume to Present Your Best Self
Get a free resume review using Monster's best resume-scanning technology. Upload your resume now and get detailed feedback, at no cost, in two business days.
https://www.monster.com/resumes/post-resume2

The last thing to think about before submitting your resume is whether or not to include a cover letter. This is a highly debated topic in the industry, and I get a mixture of results when speaking with recruiters. I use the following guideline: a simple introduction of why you're interested in the role is proper. If submitting as an email, then you can use the email content as the cover letter. However, if you are submitting through a portal without an introduction space, then include a simple cover letter (in the same or complementary format as your resume).

If you got nothing else out of this article, please take away this thought:

The next up in the series is article 5 – Updating Your Social Media Profiles
Total agenda for this series