You have choices for your health insurance
March 18, 2021 at 11:25 am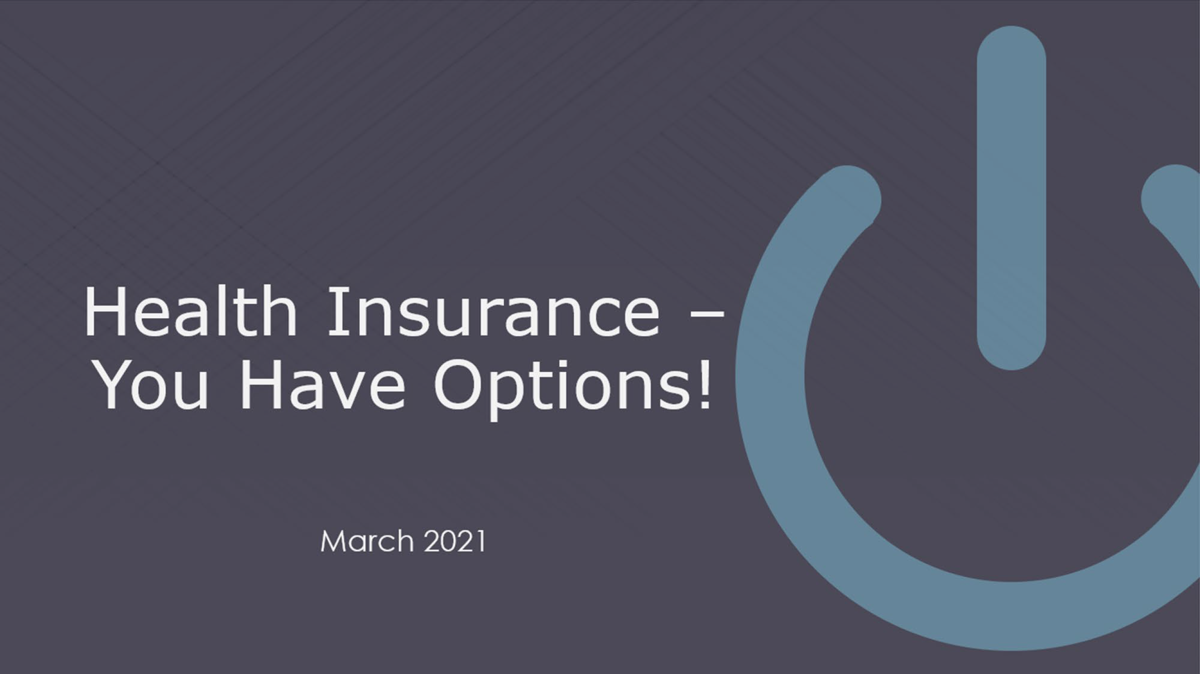 As a health insurance consultant, many people ask me why I don't focus on one product or another. The answer is simple; there is not a one-size-fits-all solution. That's right, there's no golden solution that's perfect for everyone. The best solution will provide you catastrophic coverage and keep your primary needs and concerns high on the list of benefits. In other words, it's based on YOUR needs and budget.
---
There are two ways to qualify for lower rates: with your income or with your health. Plans on the health insurance marketplace can be subsidized by the US government if you qualify based on your family income level. Underwritten plans from private insurance companies are also a great solution for those who qualify with their health. These are not the only two options available for those that are seeking to source health insurance for themselves and their families.
There are six main solutions out there for folks that are seeking to source their own: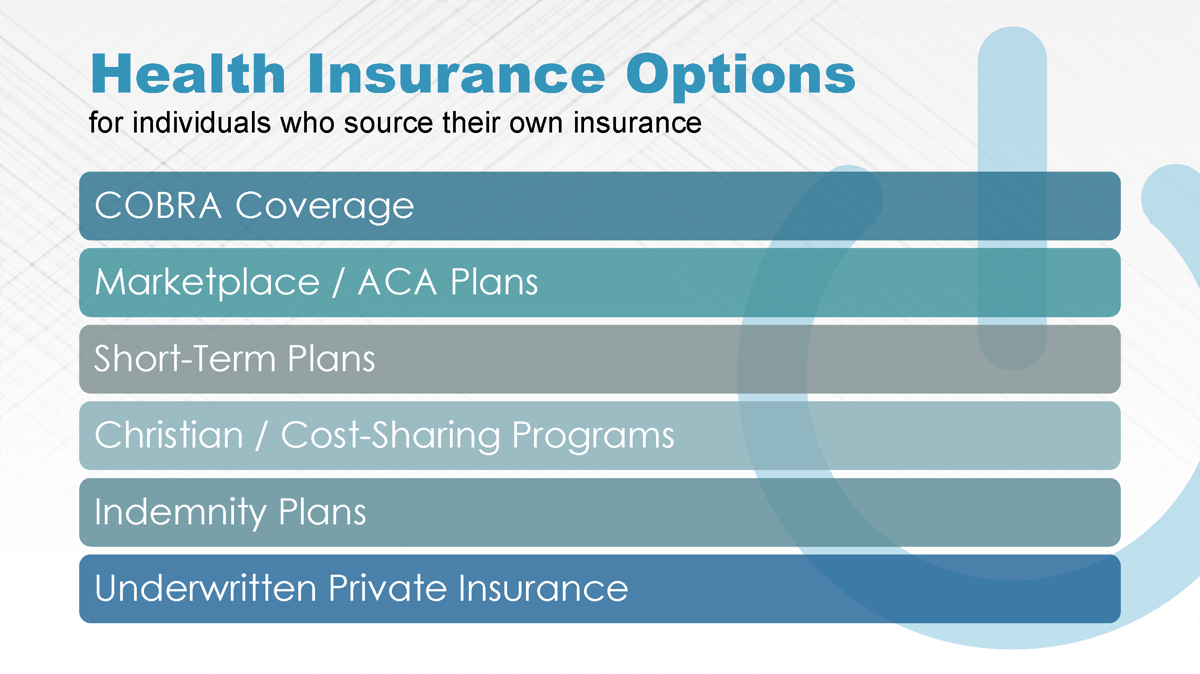 There are pros and cons to each of these options. So, let's take them one at a time.
COBRA references the Consolidated Omnibus Budget Reconciliation Act of 1985, which allows employees and qualified dependents the ability to continue employer-based group health insurance at their expense. The downsides to these plans are the cost and duration. Most employees are unaware that the employer covers 50+% of their portion of the health insurance cost. When they take it upon themselves to continue the coverage after the employment has ended, then they can pay up to 110% of the insurance cost, which includes an administrative upcharge from the insurance company to now deal with you as an individual rather than the group as a whole. Most people are not aware of the level of these costs or that they are only available for 12-18 months after the employment is terminated. At that time, they must find new coverage solutions. The upside are the networks, benefits, and continued use of the same healthcare providers as used when the employment was in force.
Health Insurance Marketplace represents approved websites that offer Obamacare, Bidencare, ACA and other plans that all reference the same thing. These plans are all compliant with government requirements that qualify as MEC (Minimal Essential Coverage). The downsides of this option are that times to enroll are limited throughout the year and many of the major providers have pulled out of that market because the requirements are too strict to ensure profitability. United Healthcare, Aetna, Humana, Cigna and more have all withdrawn from this space, which created room for less known and less established carriers to step in. In many states, there are only HMO or EPO options, which limit your choice of provider, can lengthen the time it takes to get proper service and can affect the type of treatment you will receive. The upside is with the public availability of these plans through multiple, approved sites – such as Healthcare.gov, Health Sherpa, and more – as well as the subsidies available to those who qualify with their income level.
Short Term Plans are those that are intended to get you to the next open enrollment period on the marketplace. These plans are usually 3 or more months in length and have previously been able to run up to 36 consecutive months with auto-renew. The upside is the cost and available PPO networks. They have some of the lowest rates in the industry, but that should hint at something. The downside is that there are limited benefits and many ways that the insurance company can either avoid paying a claim or be able to drop you altogether. A common activity with short-term plans (or STP) is a practice called "post-claim underwriting." This process allows an insurance company to accept an applicant for an underwritten plan without going through a rigorous onboarding or medical effort. It also means that as soon as there is a claim, the insurance company can look through your medical history for a reason to either deny the claim or drop your coverage completely, at which time you are responsible for all the cost and liability for the services performed by a medical facility and/or provider. Some news articles and more have been written on these types of plans and are suggested reading, such as the following from Consumer Reports:
https://www.consumerreports.org/health-insurance/short-term-health-insurance-isnt-as-cheap-as-you-think/
Cost-sharing programs are another area of risk. First and foremost, this is NOT health insurance, and most of these organizations are very straight-forward about that. Having managed contracts in the international oil and gas markets for several years prepared me for review of some of these. The contract language allows these organizations to determine whether or not to pay the reimbursement of claims for any services rendered by medical facilities or providers to the members of these cost-sharing programs. The contracts protect the organizations, and rely on the faith and trust of the members to maintain proper funding for the organization and their members. I personally know several people that participate in these programs, many of which think they are the best thing since sliced bread. There are several that had extremely bad experiences with these programs, being left with massive expenses that either take years to pay off or cause bankruptcy. Some states have outlawed these organizations because of bad experiences and con-artists that would swindle money from their constituents. Not all of these organizations are "of the devil," and I won't say NEVER use them, but I definitely suggest a high level of caution with any of these organizations.
Indemnity plans are those that pay a specified amount of money toward a doctor visit or procedure. These are best for those people that want to limit the cost of services provided. However, these are not all-inclusive. There are many areas not covered, which leave the client at risk of catastrophic costs and circumstances. They typically have very limited coverage for major issues but cover the simple things very well. The upsides are that the cost is very low and the payment does not depend on your doctor or service provider being in-network or not. These plans are typically reimbursable, which means the client pays the provider, and then requests reimbursement according to the pricing table.
Last, but not least is private insurance. Most indemnity plans are also through private carriers, but this section is focused on the underwritten plans. Unlike many short-term plans, these do the underwriting up-front to determine whether the applicant will be accepted by the insurance company or not. This is a very similar process to large life insurance policies. The downside is that it does not matter how much money you have, you can only qualify with your health, and these groups are typically very picky about whom they do and do not want as clients. For those that qualify with their health, these are typically the best available option. When considering the coverages, rates are very reasonable, and these are usually also PPO networks, which allow the insured to choose their service provider and/or facility each time they need something. PPO networks are also typically nation-wide instead of limited to a local area, like an HMO or EPO. Many of these companies set up coverages similar to more traditional employer-based group plans, which bring comfort and reliability to their clients.
There is not a single solution that is best for everyone. A few available options are not typically recommended at all, but keep in mind this is merely my perspective, and any recommendations will be based on the needs, desires, budget and risk profile of the prospective client I am working with at any given time. My process is simple: meet someone where they are, identify their needs, and work with them to determine the best solution to meet these needs.
I'm not a salesman, and most agents should not be either. A good agent will guide you to the right solution and stay alongside you through the journey with a specific carrier, not disappear when you sign on the dotted line.
At the time this article / blog was written, we were in the middle of a special enrollment period on the marketplace due to an executive order signed by President Biden during the early days of his administration. This means the marketplace is a current option for everyone. That is not typically the case, which makes this the best time to find an agent and determine if you already have the best solution in place for you and your family.